OVERVIEW
Lantech T(P)ES-0216T is a 16 10/100Base-TX + 2 10/100/1000 Base-T w/8/16 port 802.3at/af PoE ports with M12-connectors unmanaged EN50155 Ethernet switch with IP54 rated protection which meets the high reliability requirements demanded by industrial rolling stock applications.
E-marking* certificate; ISO 7637-2 compliant and extended working temperature
The T(P)ES-0216T is designed to meet with critical network environment with IP54 enclosure and M12 connectors for protection against dust and water. It has passed harsh environmental testing to comply with Industrial EMI and Safety standards as well as stability testing such as Free fall, Shock, and vibration. It is compliant with ISO 7637-2 which protects switch from being damaged by high voltage that could be found at vehicle cranky start. For a greater flexibility in application the T(P)ES-0216T supports an extended operating temperature range from -40°C to 75°C.
The E-marking* certificate makes it the most suitable switch for bus, carriage, other vehicles application as well as for industrial areas where the power source is limited with 12V or 24V but has demand of IP surveillance or VoIP applications.
EN50155, EN45545-2, EN61373 verification; High ESD protection
Lantech T(P)ES-0216T features high reliability and robustness coping with extensive EMI/RFI phenomenon, environmental vibration and shocks usually found in factory, substation, steel automation, aviation, mining and process control. It is the best solution for Automation, transportation, surveillance, Wireless backhaul, Semi-conductor factory and assembly lines.
ITxPT** design with Ignition function using software
T(P)ES-0216T is designed with ITxPT public transport standards and also compliant with ISO 7637-2 which protects switch from being damaged by high voltage that could be found at vehicle cranky start. (-IGN model)
*Future Release
**Optional
FEATURES
16 10/100TX + 2 10/100/1000T Unmanaged EN50155 Ethernet Switch with M12 connectors and IP54 rated protection
Supports IEEE802.3at/af feeding power up to 30W per PoE port
Back-plane (Switching Fabric): 7.2 Gbps
8K MAC address table
Wide Operating Temperature (-40°C ~75°C)
Din rail** and wall mount design
EN45545-2 Fire & Smoke, EN50155 and EN61373 shock/vibration verification
E-mark* certificate for vehicle
ITxPT** design w/ ignition function (-IGN model)
*Future Release
**Optional
SPECIFICATIONS
Hardware Specifications
IEEE Standard

IEEE802.3 10BASE-T Ethernet
IEEE802.3u 100BASE-T Ethernet
IEEE802.3x Flow Control and Back Pressure
IEEE802.3at/af Power over Ethernet (For PoE model)

Transfer Rate

14,880pps for Ethernet port
148,800pps for Fast Ethernet port

Mac Address

8K MAC address table

Connector

10/100TX: 16 x M12, 4-pole D-coded, Female with auto MDI/MDI-X function
10/100/1000T: 2 x M12, 8-pole X-coded, Female with auto MDI/MDI-X function
Power connector: 1 x M12, 4-pole A-coded, Male; 1 x M12, 5-pole A-coded, Male (IGN model)


LED

Per unit: Power 1 (Green), Power 2 (Green),
Ethernet: Link/Activity (Green)
PoE: (Green)

PoE pin assignment

M12 port # 1~ # 12 support IEEE 802.3at/af End-point. Per port provides up to 30W


Power Supply

Dual input 9~36VDC (24 model)

Power Consumption

Max. 4.3W

Power Budget

Max. 80W
Higher PoE budget can be applied upon request. **

Operating Humidity

5% to 95% (Non-condensing)

Operating Temperature

-40°C ~ 75°C (-40°F ~ 167°F)

Storage Temperature

-40°C ~ 85°C (-40°F ~ 185°F)

Case Dimension

Aluminum case, IP54
252mm(W)x165mm(H)x76.5mm(D)

Weight

1.8kg

Installation

Wall Mount Design

EMC

FCC Class A, CE EN55011,
CE EN61000-4-2 (ESD),
CE EN61000-4-3 (RS),
CE EN61000-4-4 (EFT),
CE EN61000-4-5 (Surge),
CE EN61000-4-6 (CS),
CE EN61000-4-8 (Magnetic Field),
CE EN61000-6-2,
CE EN61000-6-4,
CE EN55032, CE EN55035
BS EN61000-4-2,
BS EN61000-4-3,
BS EN61000-4-4,
BS EN61000-4-5,
BS EN61000-4-6,
BS EN61000-4-8,
BS EN55032, BS EN55035

Stability Testing

IEC60068-2-32 (Free fall), IEC60068-2-27 (Shock), IEC60068-2-6 (Vibration)

Verifications & Report

EN50155/EN50121-3-2/EN50121-4 verification
EN45545-2 R13/R22/R23/R24/R25 (EN ISO 4589-2, EN ISO 5659-2, NF X70-100-1 & 2) Fire & Smoke verification

Vehicle certificate

E13 marking*
ITxPT design** (-IGN model)

MTBF

TPES-0216T : 881,063 hours
TES-0216T : 985,788 hours
(standards: IEC 62380)

Warranty

5 years
*Future Release
**Optional
DIMENSION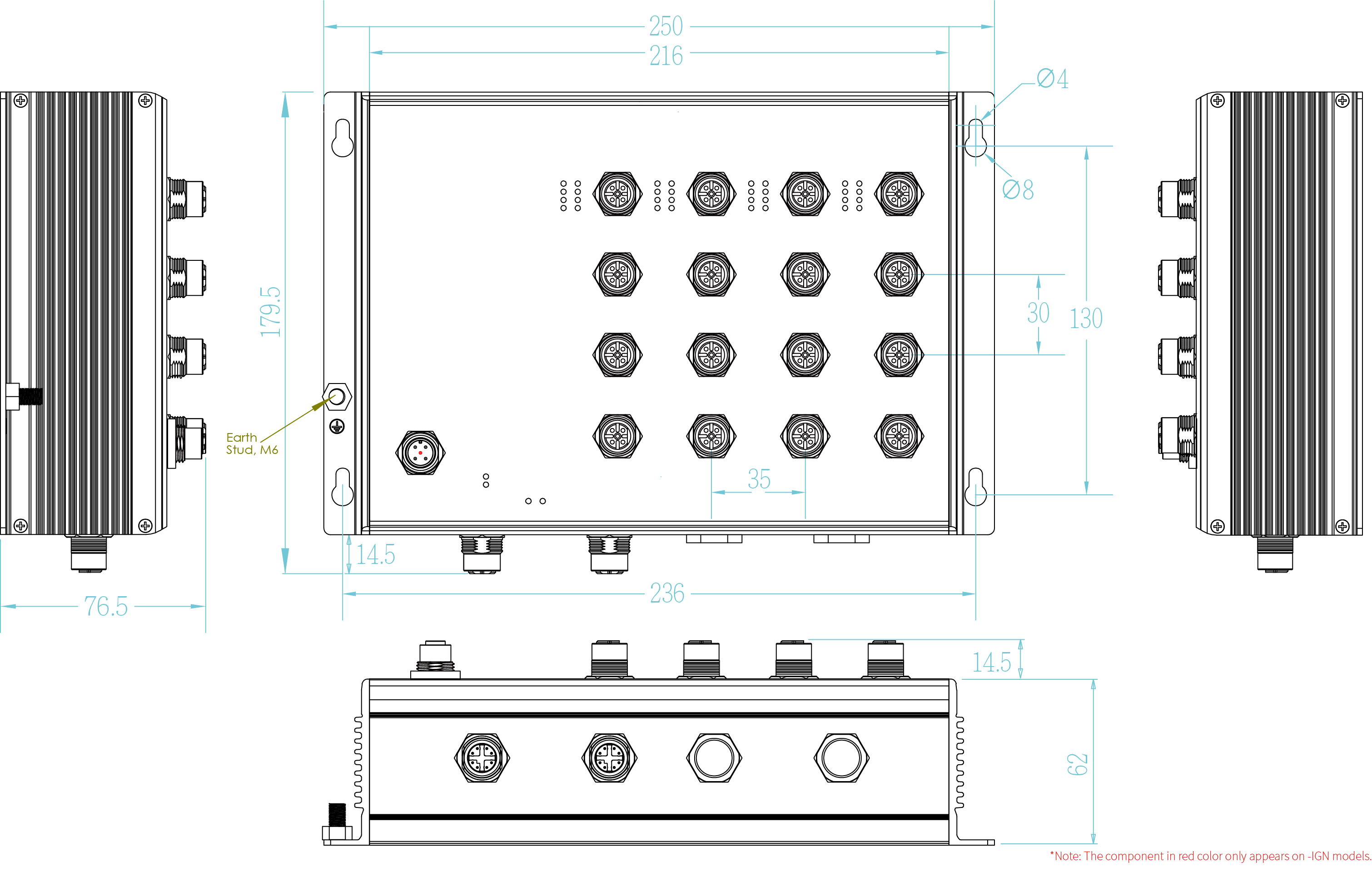 ORDER INFORMATION
All model packages include M12 caps and wall mount bracket. All standard models are non-coating, optional coating models are available with –C model names. Optional bypass models are available with –BT
P/N
Model name
Description

8350-344

TPES-0216T-8-54-24V-IGN
16 10/100TX + 2 10/100/1000T IP54 rated

w/8 PoE at/af

EN50155 Unmanaged Ethernet Switch w/M12 connectors; -40°C to 75°C; 9~36VDC dual input;

w/ignition

8350-3441

TPES-0216T-16-54-24V-IGN
16 10/100TX + 2 10/100/1000T IP54 rated

w/16 PoE at/af

EN50155 Unmanaged Ethernet Switch w/M12 connectors; -40°C to 75°C; 9~36VDC dual input;

w/ignition

8350-3442

TPES-0216T-8-54-24V
16 10/100TX + 2 10/100/1000T IP54 rated

w/8 PoE at/af

EN50155 Unmanaged Ethernet Switch w/M12 connectors; -40°C to 75°C; 9~36VDC dual input

8350-3443

TPES-0216T-16-54-24V
16 10/100TX + 2 10/100/1000T IP54 rated

w/16 PoE at/af

EN50155 Unmanaged Ethernet Switch w/M12 connectors; -40°C to 75°C; 9~36VDC dual input

8350-3446

TES-0216T-54-24V-IGN
16 10/100TX + 2 10/100/1000T IP54 rated EN50155 Unmanaged Ethernet Switch w/M12 connectors; -40°C to 75°C; 9~36VDC dual input;

w/ignition

8350-3447

TES-0216T-54-24V
16 10/100TX + 2 10/100/1000T IP54 rated EN50155 Unmanaged Ethernet Switch w/M12 connectors; -40°C to 75°C; 9~36VDC dual input
OPTIONAL ACCESSORIES - Connector
| Model name | Description |
| --- | --- |
| ECON120005PF | 5 pin M12 (Female) A-coded 180 degree crimp type connector for power supply |
| ECONM12-04D(M)-C-180 | 4 pin M12 (Male) D-coded 180 degree crimp type connector for data |
OPTIONAL ACCESSORIES - Cable
| Model name | Description |
| --- | --- |
| ECONM12-5P(F)70CM CABLE | 5 pin M12 (Female) A-coded 90 degree cable for power supply, 70cm |
| ECAB124030MJS | 4 pin M12 (Male) D-coded 180 degree RJ45 STP cable for data, 300cm |