OVERVIEW
PoE at/af powered device with RJ45 based dongle
Lantech N-Key is a configuration auto backup, upgrade and editable restoration tool for 3 series and above managed switches or routers. With RJ45 to USB dongle, N-key is able to run on PoE power or 5V DC external power for carry away use. Optional M12 cable allows N-key to work on M12 models.
Auto upgrade, auto backup and editable configuration up to 256 nodes
By connecting the RJ45 port of switch / router, users can auto backup the configuration or auto upgrade the firmware, and then take N-key to PC to edit the configuration file for restoring the configuration. One N-key can support up to 256 nodes of backup, upgrade and editable configuration.
Select DIP switch mode, go on the fly
With DIP switch mode setting (backup/upgrade/restore/USB dongle), N-key can work as easy as plug-n-play making the replacement switch/router up and running in seconds on the field. When a switch or router failure occurs, users can quickly re-install system configuration and recover the entire configuration of the system as well, including IP address.
Industrial design for quick replacement configuration
Able to work with -20C to 60C temperature, N-key is the configuration tool for quick replacement of Lantech switch / router on site without the reach of PC / notebook that can be handled by non-IT technician.
N-Key is designed to meet the demands of industrial environments and has been tested extensively to meet industrial EMI and EMC standards.
FEATURES
RJ45 based dongle support with PoE at/af powered device or 5V external power
4 DIP switch mode for backup/upgrade/restore/USB
Auto backup/ auto upgrade/ editable auto restore configuration
Support up to 256 nodes, as easy as Plug-n-Play
Optional M12 to RJ45 cable for M12 models
Operation temperature : -20 to 60C
CE, FCC certification
SPECIFICATIONS
SPECIFICATION
Connector

RJ-45 type , USB 2.0

DIP Switch

Selection of backup, upgrade, restore and USB dongle modes

Enclosure

Metal

Dimensions

53.4 (W) x 80 (D) x 24(H) mm

Optional M12 cable length

3Meters (including connector)

Power Input

5 VDC external power or PoE at/af PD

Operating Temperature

-20 ~ 60°C (-4 ~ 113°F )

Storage Temperature

-40 ~ 70°C (-40 ~ 158°F )

Operating Humidity

5 ~ 95% (non-condensing)

Storage Humidity

0 ~ 95% (non-condensing)

EMC

CE, FCC Class A
EN61000-4-2 (ESD)
EN61000-4-3 (Radiated RFI)
EN61000-4-4 (Burst)
EN61000-4-5 (Surge)
EN61000-4-6 (Induced RFI)

Warranty

2 years
DIMENSION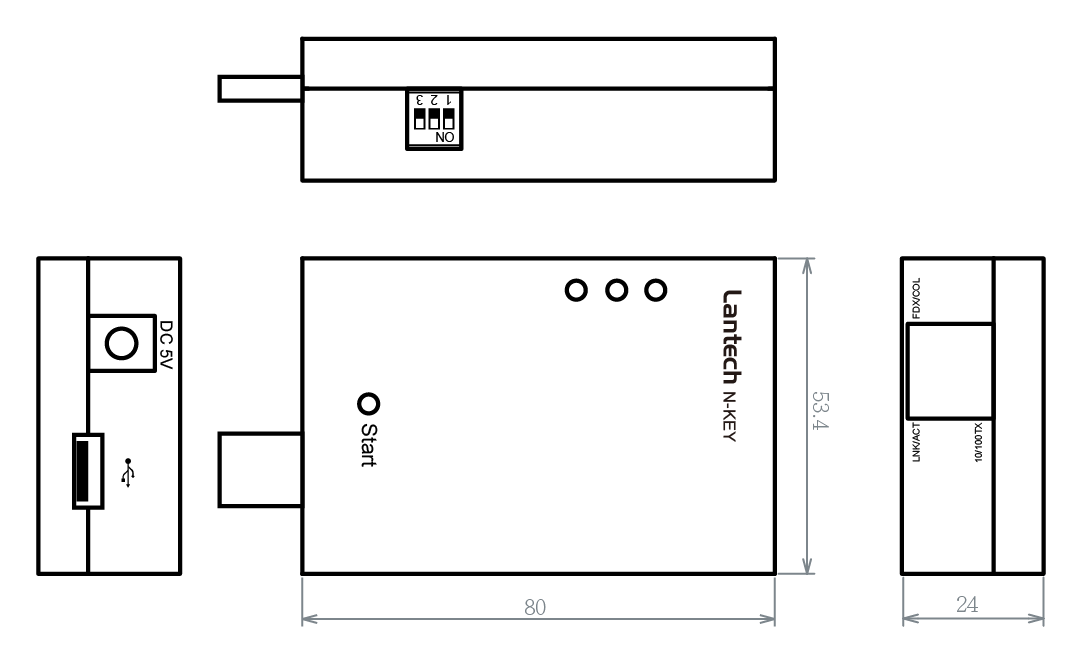 ORDER INFORMATION
| P/N | Model name | Description |
| --- | --- | --- |
| 8850-100 | N-key Configurator | RJ45 connector dongle for auto firmware upgrade, auto backup and editable/auto restore; -20°C to 60° |
| | ECAB124030MJS | 4 Pin M12 RJ45 D-coded Male 3 Meters; STP Cable |