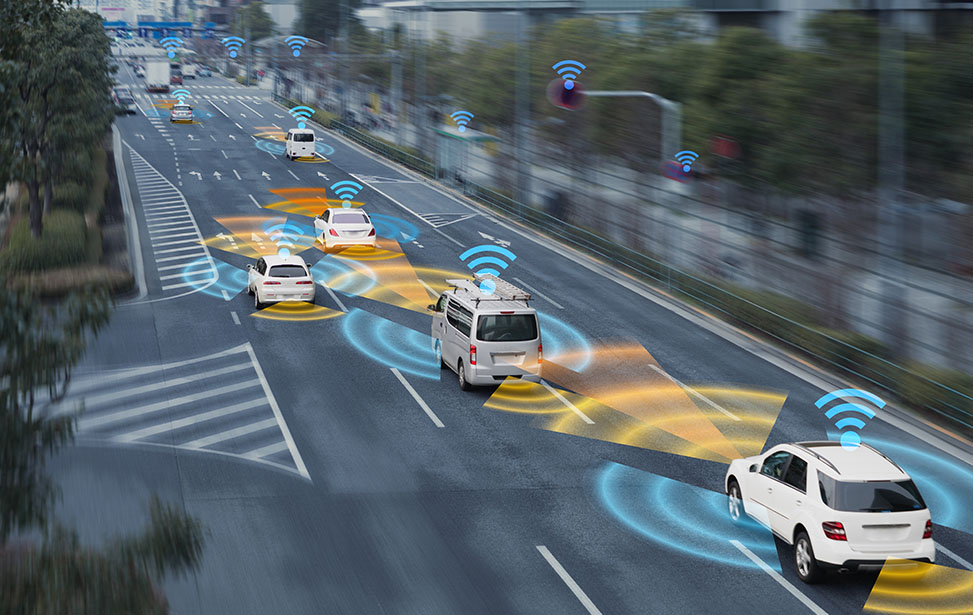 自駕車是智慧交通系統(ITS)和工業自動化的關鍵
An autonomous vehicle, also known as a self-driving vehicle, is a vehicle that is capable of sensing its environment and moving safely with little or no human control. It is one of the major factors of Intelligent Transport Systems (ITS), which represents the integration of information and communication technologies (ICTs). The main goal of ITS is to achieve a reduction in traffic and pedestrian fatalities, and enhance transport infrastructure systems, through the realization of autonomous driving. Besides ITS, autonomous vehicles also play an important role in future industrial applications such as automated fruit/flower harvesting, automated forklifts, automatic guided vehicle (AGV), etc.
更高規格的8K全景攝影能力
To perceive their surroundings and replicate human driving, autonomous vehicles integrate a variety of components to its sensor and vision systems, that can scale to millions of vehicles and work in diverse lighting and weather conditions. High-quality, ruggedized and precision imaging solutions which include 3D object resolution, static and dynamic object screening, and 360-degree horizontal coverage are adopted. The result of Installing 8K panoramic cameras is vast amounts of real time data being transmitted which in turn requires a large bandwidth capacity.
即時的3D地圖繪製能力
Besides high quality vision solutions, powerful sensor systems that include sonar, radar, GPS, odometry and LiDAR, are also necessary. To provide adaptive cruise control, collision avoidance, and blind-spot detection, a 3D map is generated from the sensor data collected. For example, LiDAR can capture shapes of the environment around the vehicle by scanning its surroundings with a beam of light. Static objects as well as moving ones are tracked in real-time. An automated fruit harvester or an automated forklift may not need 8K high resolution vision quality, however, these autonomous vehicles still integrate optic sensors (cameras), speed or laser sensors, and software to build a 3D map of its operating environment and to navigate the operation. Thus, the massive data transmission requirements are still commonly seen in those applications.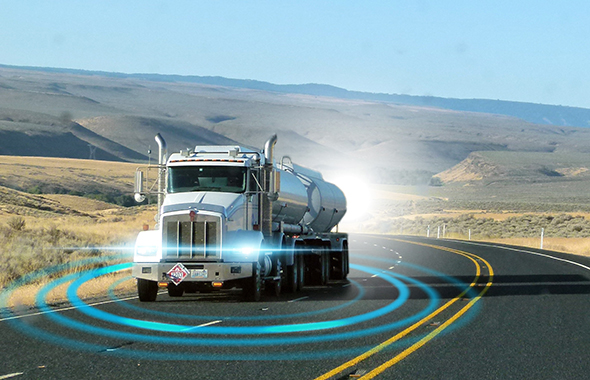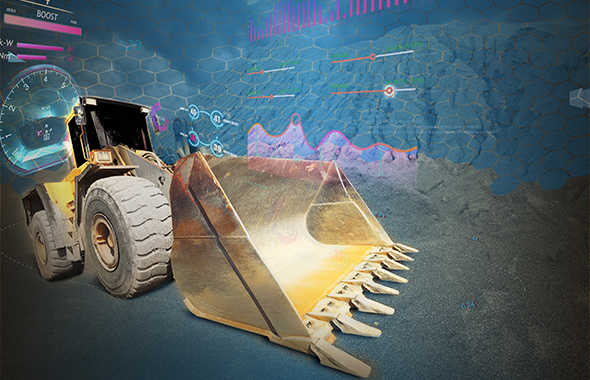 自駕車網路的挑戰
可靠度
Safety is a top priority in autonomous vehicles applications, any interruption of this service is not acceptable, including networking transmission. If the network were to go down, all the vision and sensor connections would fail. This could cause serious safety issues. Thus, it is important to build a rugged and reliable networking environment.
頻寬和網速
The bandwidth capacity is critical. All the data is transmitted in real-time, including the 8K panoramic vision data. Any lack of bandwidth will result in missing or an interruption of vision data for human-less driving. With all the sensors and vision system sending a vast amount of data around the network this requires a huge bandwidth capability, this is required to create a seamless imaging system for the autonomous vehicle, one other parameter also needs to be considered is the speed of the network.
乙太網路供電 (PoE)
More and more devices are supporting Power over Ethernet (PoE) now, including the sensors and cameras installed on autonomous vehicles. This standardized technology integrates the Ethernet data transmission and power supply into one single Ethernet cable, this has the following advantages, reduced cabling, reduced component count, reduced installation time and reduced maintenance.
和車輛供電系統的相容性
12V/24V power supply is commonly seen on autonomous vehicles and other vehicles. Any devices powered by the vehicle should be able to accept 12V/24V power input and function well under heavy load, low voltage & changing conditions.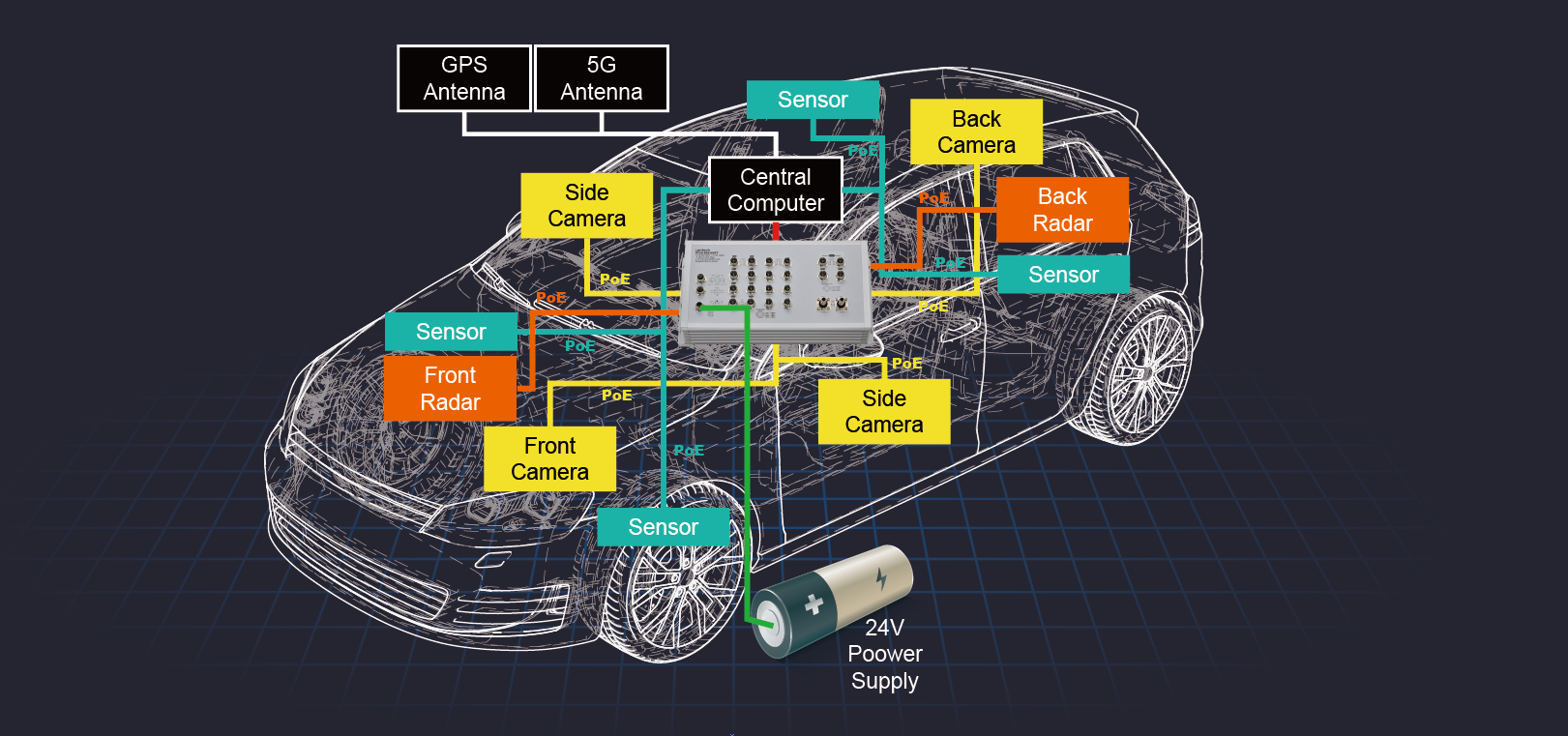 Lantech的解決方案 – 工業級10GbE乙太網路交換器
---
802.3at/af乙太網路供電(PoE)標準 (每埠可達30W)
---
---
帶M12網路埠的EN50155認證產品 或是 帶RJ45網路埠的IP30等級產品
---
導軌安裝機種提供120W@24VDC / 80W@12VDC PoE 供電標準
---
支援IGMP v3以管理多播 (multicast)
---
支援VLAN以限制區域廣播對象,這可顯著降低網路流量
推薦產品 - Lantech 10GbE乙太網路交換器