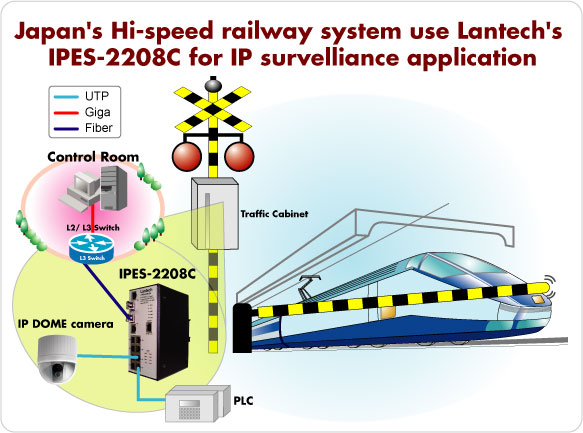 Lantech's IPES-2208C, an 8 x 10/100TX with 8 PoE injectors + 2 Gigabit/100M SFP uplink Industrial Switch, are successfully installed in Japan's Hi-speed railway system integrated with N company's outdoor IP survelliance system. Those total IP survelliance system are placed in cross-gate areaof Hi-speed railway system to monitor each cross-gate area status and send back all the video streams to control room.
"We choose Lantech's IPES-2008C to be integrated with our solution for many reasons. First is it provides PoE function which is very important for this application. Second it offers very good IGMP quality to connect with our cameras. Third IPES-2208C has 100M fiber connectivity for long hual connection." said Mari san of Ncompany.
Lantech Industrial Switch's quality and performance are proved again by Japan's top criteria under critical network environments.
Brands and product names are trademarks or registered tradmarks of their respective companies.
©2010, Lantech communications Global, Inc. All rights Reserved.